Please go to the area you are interested in. Samples of work, including video are, or will be, attached to individual titles.
Current Writing
Recent Directing
Combat Hospital
ABC/Global co-production. With Elias Koteas, Luke Mably, Deborah Kara Unger, Terry Chen, Arnold Pinnock, Adam Beach, Gordon Kennedy.
Shameless
Written by Paul Abbott, Tom Higgins and Kevin Erlis.
Company Picture/Channel 4
With David Threlfall, Sally Carman, Tina Malone.
Film
Elijah
Written by Blake Corbett
Anagram Pictures/CTV TV
With Billy Merasty, Glen Gould.
The story of ELIJAH HARPER, the indigenous leader, ELIJAH is a political comedy.
ELIJAH won the 2008 Leo Award for Best Feature Length Drama.
ELIJAH won the 2009 Gemini Award for Best TV Movie.
The American
Written by Michael Hastings from the novel by Henry James
BBC Films/WGBH Boston
With Diana Rigg, Matthew Modine, Brenda Fricker, Andrew Scott, Aisling O'Sullivan
Director of photography: Tony Miller
Editor: Kate Evans


Syrup
Short written by Nick Vivian
Channel 4/First Choice Films
With Bill Thomas, Annette Badland
Editor: Chris Blunden
Music by Andy Sheppard and Steve Lodder
SYRUP was nominated for an Acadamy Award (Oscar)
SYRUP won the Jury Prize at the Cannes Film Festival
SYRUP won the Best Short Film at the Valladolid
SYRUP won the Amnesty International Film of the Year Award
SYRUP was nominated for a BAFTA
Television
Casualty
Co-created with Jeremy Brock, wrote many early episodes.
BBC TV.
CASUALTY was 25 years old in 2011 and is the world's longest running medical drama.
CASUALTY won a BAFTA in 2007.
CASUALTY won an RTS in 1992.
HOLBY CITY and HOLBY BLUE are spin-offs from the original CASUALTY format.
Casualty was the subject of Rachel Silver's book Casualty: Behind the Scenes and Hilary Kingsley's book Casualty: the Inside Story.
Wikipedia article on the series here.
Television Directing
Kiss of Death
Written by Barbara Machin
BBC Single, produced by Jane Steventon
With Danny Dyer, Louise Lombard, Lyndsey Marshall, Ashen Bhatti, Shaun Parkes, Brian McCardie
Director of photography Edu Grau
Music by Dan Pemberton
Edited by Jon Costelloe
Miss Marple
THE SITTAFORD MYSTERY
Written by Stephen Churchett after Agatha Christie
ITV/Mammoth produced by Matthew Read
With Carey Mulligan, Timothy Dalton, Mel Smith, Geraldine McEwan, Laurence Fox, James Wilbey, Zoe Telford, Matthew Kelly
Director of photography: Nick Knowland
Edited by Jon Costelloe
Messiah
THE HARROWING – THREE-PART THRILLER
Written by Tony Cafolla
BBC/PARAMOUNT
Produced by Peter Norris, Kate Triggs, Robert Cooper.
With Ken Stott, Maxine Peake, Neil Dudgeon, Helen McRory, Kate Lynn-Evans, Hugo Speer, Margot Leicester, Bill Thomas
Director of photography: Daf Hobson
Edited by Jon Costelloe
Music by John Harle
The Blue Eiderdown
TRIAL AND RETRIBUTION
ITV/ LAPLANTE
Written by Lynda La Plante
Produced by Christopher Clough, Liz Thorburn
With David Hayman, Dorian Lough, Gemma Jones, Nick Farrell, Colin Salmon, Frances Barber.
Director of photography: Daf Hobson
Edited by Iain Sutherland
Poirot
FIVE LITTLE PIGS
Written by Kevin Elyot after Agatha Christie
ITV/A&E
Produced by Margeret Mitchell
With David Suchet, Rachael Stirling, Toby Stephens, Marc Warren, Julie Cox, Talulah Riley, Lottie Unwin, Gemma Jones, Aiden Gillen
Director of photography: Martin Fuhrer
FIVE LITTLE PIGS was rebranded POIROT.
NCS
Written by Malcolm Mackay
BBC Films
Produced by Sue Austin
With David Suchet, Samantha Bond, Michael Fassbender, Melanie Hill, Marc Warren, Alan Howard
Silent Witness
FAITH
BBC TV
With Amanda Burton, Katherine Hunter
Director of photography: Peter Middleton
Editor: Jon Costelloe
Blue Murder
Granada TV
With Jemma Redgrave, Sean McGinley, Kevin McMonagle, Tim Woodward
Editor: Chris Blunden
Bramwell
OUR BRAVE BOYS – Single film
Written by Lucy Gannon
Produced by Tim Whitby and Harriet Davidson
With Jemma Redgrave, Kevin McMonagle, David Calder, Ruth Sheen, Eamon Boland, Jenny Aguter.
Director of photography: Tony Miller
Editor: Bryan Oates
Bramwell
Four episodes
Written by Lucy Gannon and Helen Greaves
Produced by Tim Whitby and Harriet Davidson
With Jemma Redgrave, Kevin McMonagle, David Calder, Ruth Sheen.
Director of photography: Tony Miller
Editor: Bryan Oates
The Bare Necessities
Written by Ken Blakeson
Produced by Mark Redhead
With Joe Duttine, William Ash, Barry Stanton, Eamon Boland, John Michie, Paul Rider, Caroline Loncq, Sandra Voe, Polly Hemmingway.
Director of Photography: David Odd
Editor: Chris Blunden
Music by Guy Pratt
This little film bears a striking resemblance to THE FULL MONTY that came out six months later…


Dirty Old Town
Written by Paul Unwin, Nick Vivian and Stephen Ward
Produced by Mark Redhead
With Rik Mayall, Michael Kitchen, Frances Barber, Helen McRory, Sean McGinley, Brian McCardie.
Director of Photography: David Odd.
Edited by Jon Costelloe
Nominated for an ACE AWARD and WRITERS GUILD OF UK AWARD
Claire de Lune
Written by Nick Vivian
Produced by Mark Redhead
With Rik Mayall, Serena Scott Thomas, Lee Evans
Director of photography: David Odd.
Edited Edward Mansell
Music by Steve Nieve
Nominated for an ACE AWARD
Episodes of The Bill and EastEnders
Theatre
Theatre
Paul has worked in the theatre as a director, artistic director – he ran the BRISTOL OLD VIC for four years – and as a writer.
As artistic director of the BRISTOL OLD VIC, Paul Unwin radically changed the theatre's audience. He asked Phylida Lloyd (MAMA MIA, THE IRON LADY) to be Associate Director, and Matthew Warchus (ART, GHOST) to be Assistant Director. Both did remarkable productions at the theatre during this time. Along with Steve Woodward, Foz Allen and the remarkable Sheila Pearce and others they made the Bristol Old Vic one of the most highly regarded regional theatres in the UK.
Writing
This Much Is True
THEATRE 503
Written by Paul Unwin and Sarah Beck
Directed by Tim Roseman
With Justine Waddell, Alice DeCunha, Beatritz Romilly, Alice De Chuna, Stefano Braschi, Gerald Kydd, Amber Agar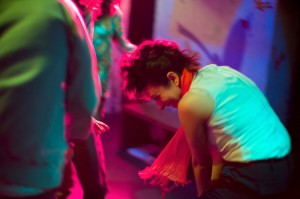 This Much Is True: photographs
This Much Is True performance draft
This Much Is True at Theatre503
"[Beck and Unwin] know how to create from diverse testimony a dramatic whole, ranging between group uproar and isolated speeches, which themselves range between the carefully precise, the self-serving and the grief-stricken. With its emphasis on the tragedy's human cost in shock and sorrow, This Much is True gives us a clear-eyed glimpse of what lay behind the official reports and misreporting."
(Jeremy Kingston, The Times.)
Doolaly Days
Leicester Haymarket, National Tour, Michael Codron
Directed by Andy Jordan
With Kate Lynn-Evans, Sylvester MacCoy, Richard Albrecht, Lucinda Curtis, Harmage S Kalirai
Theory for the Attention of Mr Einstein
Old Red Lion
Directed by Andy Jordan
With Roderick Leigh
The play was published in German and performed at the Frankfurt Stadt Theatre and the Berlin Stadt Theatre
Theatre Direction
Uncle Vanya
THE GATE THREATRE, DUBLIN
Chekhov
Alan Stanford, TP McKenna, Dearbhla Malloy, Olwen Fouere
Pal Joey
Bristol Old Vic
Written by Rogers, Hart and O'Hara
With Jill Gascoine
Hamlet
Bristol Old Vic
Shakepeare
Iain Glenn, Di Fletcher, Hugh Ross, Peter Copley, Claire Hackett, James Purefoy, Bernard Gallagher, Matthew Byam Shaw…
'Paul Unwin's riveting production reminded me more strongly than any I have ever seen that the Danish Court is riddled with secrecy.'  (John Peter, Sunday Times)
'This is an excellent production of Hamlet from the Bristol Old Vic. The director Paul Unwin and his designer Bunnie Christie have set the play in turn of the century Europe.' (Christopher Edwards, The Spectator)
Uncle Vanya
Bristol Old Vic
Chekhov
Timothy West, Patrick Malahide, Saskia Wickham, Kate Lynn-Evans, Graham Crowden
The Clandestine Marriage
Bristol Old Vic
Garrick and Coleman
Timothy West, Patrick Malahide.
In the Ruins
Bristol Old Vic, Royal Court Theatre
By Nick Dear
With Patrick Malahide
The Man Who Had All The Luck
Bristol Old Vic, Young Vic Theatre London
By Arthur Miller
With Iain Glen, Godfrey James, Paul Bentall, Rudi Shelley, David Crean, Chris Etteridge
Music by Andy Sheppard
See this programme note that Paul wrote about his meetings with Arthur Miller as he worked on this production.
'Paul Unwin's direction catches perfectly Miller's blend of wonderment, mockery and passion.' (John Peter, Sunday Times)
The Misanthrope
Bristol Old Vic/National Theatre co-production
By Molière, adapted by Tony Harrison
With Siân Thomas, Malcolm Sinclair, Brain Pettifer, Sheila Ballantine, Matthew Byam Shaw.
The Master Builder
Bristol Old Vic
By Ibsen
With Timothy West, Kate Lynn-Evans, Olwen Fouéré, Nat Brenner, Adrian Scarborough
Othello
Bristol Old Vic
By Shakespeare
With Jeffery Kissoon, Jack Klaff, Melanie Thaw
The Cherry Orchard
Bristol Old Vic
By Chekhov
With Patrick Malahide, Catheryn Harrison, Thelma Barlow
A Town in the West Country
A large-scale community play. Devised using the testimony of Bristolians who survived the bombing of the city during the Second World War, it was performed by 150 non-professional actors aged between 8 and 80. It was the subject of a South Bank Show on ITV.
Mother Goose
Bristol Old Vic
Panto
The Life of Galileo
Bristol Old Vic
By Brecht
With Barry Stanton, Martin Clunes, Sean Murray, Jill Brassington
The Three Sisters
Bristol Old Vic
By Chekhov
With Harriet Walter, Tony Robinson, Samantha Bond, Peter Copley, Martin Clunes, Jill Brassington, Johnathen Cullen
In Times Like These
Bristol Old Vic
by Jeremy Brock
With Greta Scacchi, Tim Woodward, Sophie Thompson.
Tartuffe
Bristol Old Vic
By Moliere
With Neil Cunningham, Jill Brasington,
Rosencrantz and Guildenstern are Dead
Bristol Old Vic
By Stoppard
Can't Pay Won't Pay
Bristol Old Vic
By Dario Fo
With Alex Jennings, Jenny Galloway…
Insignificance
Bristol Old Vic
By Terry Johnson
With Miranda Richardson
War Story
Touring
Written and directed with Tony Robinson
Showreel
Showreel

A far from up-to-date showreel. Too long, too slow… ah, enough already!
A new one is being prepared!
Press
This Much Is True
"[Beck and Unwin] know how to create from diverse testimony a dramatic whole, ranging between group uproar and isolated speeches, which themselves range between the carefully precise, the self-serving and the grief-stricken. With its emphasis on the tragedy's human cost in shock and sorrow, This Much is True gives us a clear-eyed glimpse of what lay behind the official reports and misreporting."
(Jeremy Kingston, The Times.)
"Unwin and Beck make no bones about wanting you to feel something. What This Much Is True highlights in equal measure is the panic of the police force before the killing, the panic afterwards and then the denials — which only re-enforced the catastrophic turn of events. Recommended."
(Jackie Cobham, The Telegraph)
Elijah
"Every so often, a docudrama comes along that has style, panache and flair. Director Paul Unwin and writer Blake Corbet's fast-paced, eccentric biography of Elijah Harper is a delight. This is dazzling, confident filmmaking."
(The Gazette, Montreal.)
Hamlet
"Paul Unwin's riveting production reminded me more strongly than any I have ever seen that the Danish Court is riddled with secrecy."
(John Peter, Sunday Times)
"This is an excellent production of Hamlet from the Bristol Old Vic. The director Paul Unwin and his designer Bunnie Christie have set the play in turn of the century Europe."
(Christopher Edwards, The Spectator)
The Man Who Had All the Luck
"Paul Unwin's direction catches perfectly Miller's blend of wonderment, mockery and passion."
(John Peter, Sunday Times)