A few years ago, I was listening to a new album by Levon Helm*, of the Band. The album, Dirt Farmer, is a masterpiece of Americana music. On the sleeve, it said 'if you want to get in touch, email here'. I did. I wrote asking why Levon couldn't bring his band to London and got an email back saying that they might be interested. Fascinated, Kate (my wife) and I went to see him in Woodstock, New York to discuss whether we could help organise a small tour to the UK and make a film about him and his music.
Levon and his band never in the end came to London. We worked long and hard with them, with the BBC and the promoter John Cummings from Serious Music, but Levon's health was never truly up to touring internationally. Last year, I saw Levon and his band again while I was working in Toronto. Again they were magical but it was clear that his health was frail. Then on the 19th of April 2012, he passed away.
What follows is Kate's description of our visit to Woodstock that she wrote just after we got back.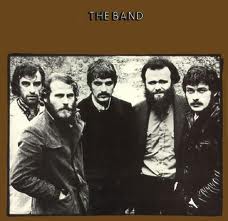 *Levon Helm was one of the greatest drummers in rock'n'roll. He was the man in the hot seat on THE BIG PINK, THE BROWN ALBUM, STAGE FRIGHT, ROCK OF AGES. He sang, he played… he drove that band – THE BAND.  The link between his right foot – punching through on the bass drum – and the snap of his left wrist – playing the down beat on the snare – is one of the true mysteries to every puppy drummer of my generation.
USA, 14th March 2009.
Driving uphill through the woodlands on a country road out of Woodstock, there is little to distinguish a turn-off that might lead to Levon Helm's home and studios from any other of the rough driveways that appear to the left and right every half mile or so – except for an ancient green mail box that resolutely bears no house number. We are not sure we've found it but follow the track down through the trees. Our appointment is with Barbara O'Brien at 4.00 pm. Barbara is Levon's studio manager/manager/The Woman you must encounter before you meet The Man. We enter through a pair of double garage doors on the ground floor of a large, A-framed barn complex. Everything is wooden, inside and out. Simple cladding delineates different working areas and a table is being prepared to receive picnic foods that people will bring to tonight's Ramble. A 'Ramble' is what Levon and his band call the gigs they perform here.
The band he plays with nowadays is definitely not 'The Band'. It is more a gathering of Levon's hand picked collaborators – kings and queens of their own fields of American music.  Barbara is everything you do and don't expect. She is a plain woman, in that she speaks plainly and openly, and there are few signs of the scale of the operation she runs in her dress or demeanour. Her hair looks professionally straightened but she wears jeans and a simple cardigan, though a lurex thread glints through the green wool. At one point in our meeting, she reapplies her lip-gloss, otherwise she is statedly unglamorous. She explains that in her 'day' job she is assistant to the local sheriff and doesn't quite know how she has ended up running Levon Helm but is learning hard as she goes along. She has spent her evenings genning up on recording contracts and royalty rights and she is now mistress of most of what she surveys. Her understanding of Levon and her loyalty soon become patently clear. The respect accorded to her by the huge team that keep Levon Helm running is also to become luminous.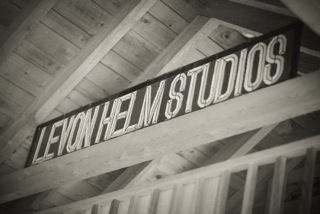 As we draw up to the barn, I ask Paul if he is nervous. He has to think for a moment and then says – no, not nervous, just rather excited. During this meeting, he is cool and clear. The project he is proposing is two concerts in London – probably at the Barbican theatre – and a further gig outside London, possibly in Dublin. He also wants to film a concert or session at St. Luke's Chapel. These ideas have already been discussed by email but Barbara was adamant that the only way to 'get' to Levon was to come and see what he does here at his place and at his Rambles. She explains clearly that Levon is now 69 years old. He is frail and reluctant to leave the place he most wants to be – in his home and studios, making music. The man we need to talk to is Larry Campbell. Paul has already warned me that if we meet Larry, I shall fall in love with him.
A quick resumé of Larry: born 1955, toured for eight years with Dylan, worked with Elvis Costello and Emmylou Harris, invited to join the Grateful Dead (he declined), lead musician on and co-producer of Leon Helm's 2007 album Dirt Farmer (along with Levon's daughter, Amy Helm) which also features Larry's wife, Theresa Williams. The album went on to win a Grammy and in 2008, at the 7th Annual Americana Music awards he was presented with the Lifetime Achievement – Instrumentalist award.
Larry duly appears at the office door and I duly fall in love – understanding for the first time that it is perfectly possible to be enamoured of two men in the same 4 square metres of space at the same time. Larry defines cool – tall, handsome, witty and honest. He talks of his eight 'LONG' years on the road with Dylan. He describes, with respect and humour, Levon's way of thinking as a complete "no-logic zone" – to move Levon would need a private jet and a plentiful supply of weed. Paulo does not flinch so we then discuss a fan base that might include Richard Branson and other possible options for other supplies. An animated hour later, we part company. We are to return for the Ramble at 7.00 pm.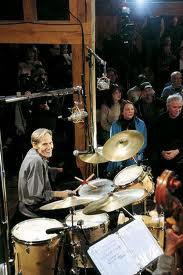 It is hard to kill time when you are about to meet a lifetime hero. Paul has bought The Band's records since he was 13, I have sung their songs since I was 16 and our son is named Daniel after Daniel and The Sacred Heart. So we head off up the woodland roads to take a look at Bearsville and other out-of-state outposts and finally decided to eat something. We pull into a bar and pass an hour with some appalling dim sum and some interesting company. Apprehensive of arriving too early or indeed too late, we set off again.
There is no danger of arriving too early. When we get back to Levon's barn, there is a queue of cars. Tickets for the Rambles are limited to 200 and are applied for online. When we get to the gate point, we are asked for our names and then told that we have special 'safe seats' so we are not to worry about the line at the door. There is no alcohol allowed inside so we have vodka from our duty-free bottle in the car park and chat to the guys organising the traffic. The man in charge is wearing a sweatshirt emblazoned with a pair of crossed drumsticks and HELMLAND SECURITY and he tells us tales by a burning brazier surrounded by trucks and trees. He is a fireman by day and a huge Levon fan at all times. He talks of the The Black Crowes who have been using the studio for the last 3 weeks. They were, apparently, not gentlemen and nor were their fans so Mr Sweatshirt is very happy to be directing the cars for a gentler set of folk. Once again, you cannot miss the commitment of the people that work for Levon and do so because they love him and his music.
Inside the barn, we have reserved seats in the second row, in front of the band. The sparse audience is spread here and on balconies behind and above the playing area. The man behind me leans forward to say, "Ma'am, do you know those seats are being kept for special guests?" and I am rather embarrassed to tell him that the names written are ours. He's here with his large family who have booked him tickets for his 53rd birthday present. Levon's drum kit is literally five metres away from where we sit; two pianos are two metres away. The evening begins. Yesterday we watched the Saint Patrick's Day Parade close the streets of New York; today, the local Woodstock Irish bagpipe clan start the proceedings. They are diligent, enthusiastic and very loud – and bring tears to my eyes with their rendition of Oh Danny Boy.
The pipers are followed by Laurelyn Dossett. She is a folk singer and wrote Anna Lee, which features on Dirt Farmer. Her story goes that she was at a recording studio singing this song and Larry and Teresa happened to be there too and Larry asked if he could take the song to Levon – and thereby hangs a tale and, eventually, a Grammy. Laurelyn sings of all the hard times of the land workers before a stand-up comedian arrives to lighten the tone. I'm English (well, Welsh actually) and I don't get all his jokes and the evening is becoming a bit surreal.
Then the band come out and The Man comes out. Levon is wearing shell pants and a T-shirt; he does indeed look frail but undefeated. He welcomes us all, takes his seat at the drums and the band, all fourteen of them, line up beside their posts: it takes a second to realise that it is actually Donald Fagen – Steely Dan – two metres in front of us on one of the pianos. Levon speaks softly: he says Ophelia and it begins. Imagine if you can, fifteen of the best musicians you are ever likely to hear gathered in one place, all totally attuned to and steeped in the music they are playing. Each are leaders of their own bands in their own right and they have gathered to Ramble with Levon for the night. For the next two-and-a-half hours they play across, through and, above all, with each other. Each number is decided as it comes up. You take the solo, the lead or the vocals as it is picked. Every member holds a kite string to Levon and Larry steers the night. When Levon's voice tires, or the brass section has been under-used or the guitars have dominated or the tone has unified – the baton is telepathically passed, probably through Larry but the seams never show. There were too many high points to quote but I shall never forget Amy Helm knotting up her hair into a ponytail before settling down to the drums to accompany her father who had picked up the mandolin whilst he sang I Got Me a Woman, She's a Pretty Good Woman To Me and her mother, now married to Fagen, watching from the side. Or the full-blown brass rendition of The Shape I'm In. Or indeed, the moment when Levon introduced a 'special' friend who had turned up for the night – ladies and gentlemen, Mr Garth Hudson (organist of the Band). The night ended with The Weight.
At the end of the encores, Levon took each member of the band by the hand, raised their arm and thanked them. He then came across to row 2 and took Paul by the hand and then me and said thank you for coming so far. I really wanted to tell him that it was absolutely fine and that he has always been on our kitchen wall in the poster from the Big Pink and that our son was named …. But I thought it might be cooler just to smile from ear to ear. The roadies moved in to clear away and Barbara asked us to stick around for a while. So we chat to Tony, Levon's chief back-stage man, and he tells us the story of The Weight. Levon parted from The Band many years ago and in 1996 he had throat cancer. After treatment, he formed a rock band. Based at his studios, he didn't sing, he 'just' played the drums.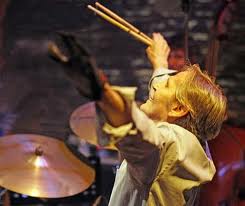 Then one day, he asked his team to give him a microphone – he said he wanted to do some vocals. So Tony miked him up. Then he began to sing, then more and more but no songs from The Band. Then he began to sing some of his old repertoire but never The Weight. Finally and unexpectedly, one Ramble, he nodded to the assembled musicians and said Weight – and they said Wait? Wait for what? – and then they understood and Tony says that he and twenty more burly roadies wept as the band 'pulled into Nazareth'.
So most of the punters have gone home and Tony needs to get on with packing away and we are thinking it may be time to head off to the Woodstock Inn on The Millstream where we have a little log cabin room in the glades run by a bunch of ladies who are very friendly to me but slightly hostile to Paul, (yes, it took us a while to figure it all out, too), when Barbara comes over and says that Levon would like to meet us. She takes us to a door just off the area where the band has played and we walk into a homely sitting room with a large TV and then into a kitchen. Levon is sitting at his kitchen table with an enormous bag of grass; he is cutting leaves up into a size suitable for his next joint. He is dealing with a Japanese director and producer who also want to make a film about him; he hugs us warmly and kisses me many times on both cheeks. I vow silently never to wash my face again and, although I haven't had a joint for years, it seems foolishly puritanical to turn down the reefa Levon is proffering. Barbara tactfully thins the crowd of the other film crew and just as I realise that the back of my head is floating away and that there is a very real possibility that I am either going to vomit or pass out, I look up and there is Paul deep in conversation with Levon. He seems fascinated that Paulo has noticed his change in drumming style and is explaining in great detail the ways and means he used to achieve tight drums before the advent of modern drum skins: he used to put his drums in the oven during the interval and even considered putting Christmas lights under the skins to keep them warm and tight during a set. "Dylan changed all that when he introduced us to the plastic."
So we sit at Levon's kitchen table. There are pictures of Amy's son, his grandchild, on the fridge; Nigella Lawson's cook books sit on a shelf and we drink Coca-Cola and chat and I cannot believe that life and Paulo's sheer bloody nerve and audacity have brought us to this moment. Garth Hudson wanders in and there are more hugs and kisses. Garth tells Paul about the problems of amplifying his accordion over the years and how he has left his favourite system elsewhere and so is not as happy as he might have been with his playing this evening. I am talking to Teresa Williams who has sung like an angel and then I say, "Look at Paul – he's conversing with heroes," and she says, "Yes, me too." And I 'get' it again. It is not just me who is genuinely 'star-struck'. Larry, Teresa, Donald and all the rest gather here to play with one of the best musicians in the world.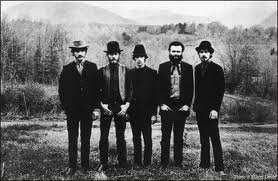 We leave about 3 am. Levon seems set to see in the dawn but most of the party are heading home. We drive back to 'The Millstream on The Whatever' with brains full of music and now grass, like two 17-year-olds who have just passed their test. There are no dual-controls but I think that if I concentrate hard enough, I can steer our vehicle through mental transference as well as Paul thinks he may be steering it. At an average speed of two-and-a-half miles per hour, it takes us about two hours to cover the journey home and we missed most of the trees. After four hours' sleep, we both wake up with uncanny alertness. Paul lifts the blind and says, "There is a car in the pond." I lie back on the pillows thinking that it was probably just too good to be true that we managed to make it back without mishap. He was joking.
We have breakfast and meet a New York couple that had booked Ramble tickets at the last minute. We talk of the night and the music and they recommend places to eat and places to see back in the Big Apple which seems a million miles away.
And so we head back to New York trying to find the West route in to see new sights. We miss the turn off like the trees the night before but, eventually, find our new hotel and settle in to consider new options.
Levon still wants Paul to make the film in Woodstock. Paulo still wants to try and get him over here. Who knows where it all might end but it was a bloody great night.
I'll keep you posted on where it goes from here.
Love,
Katie